This list sort of runs between May and June 11th.. For those that aren't familiar with Girlsway, it's been one of the more popular girl/girl studios over the past 2 years.. Updating 3/4 times a week, if your into Girl/Girl is definitely worth a look.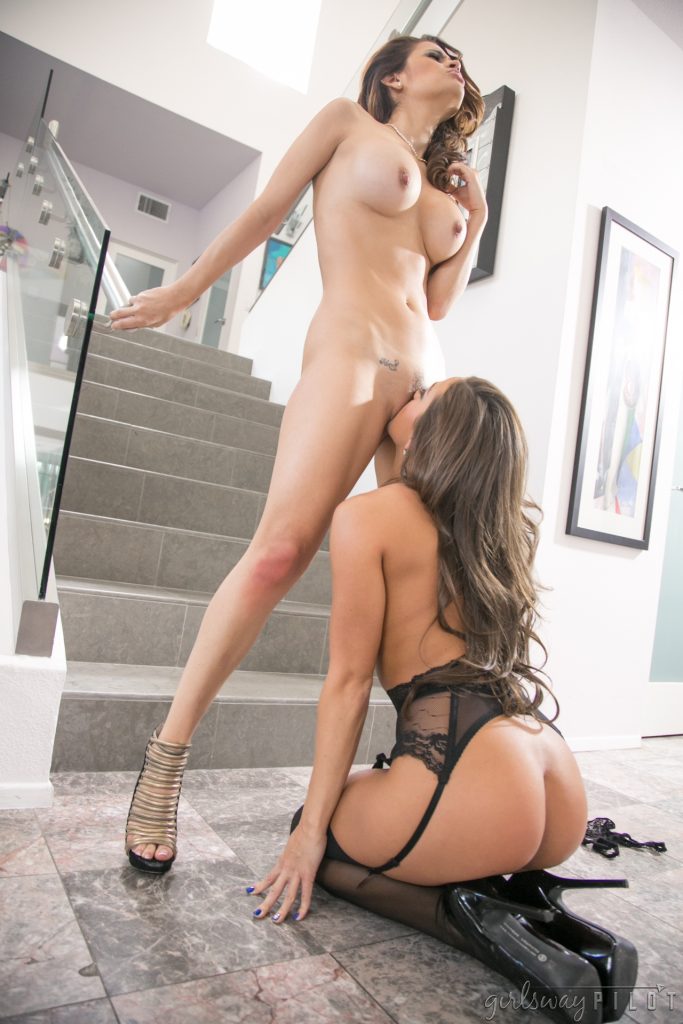 After years of being married to Manolo, Abigail Mac has become a bored and lonely house wife. With no meaningful conversation and no spark to make her feel truly desired, she has taken matters into her own hands and taken on new relationships … with women. Times have also been rough for house wife Vanessa Veracruz too. Her husband works late nights and never opens himself up to be the vulnerable lover she desperately needs. When Abigail and Vanessa first became friends, they immediately felt that spark between them, but their husbands were holding them back.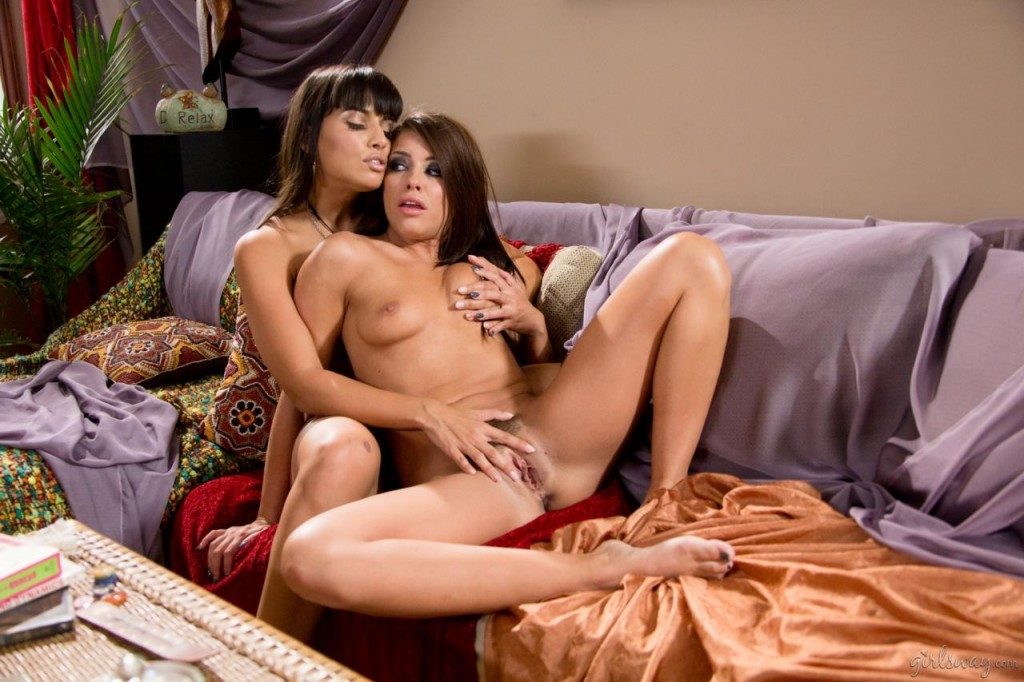 Everything seems right in the outside world but for Halle (Adriana Chechik), a college aged foster kid who recently moved in with a new family, the world is in a much darker place. Despite the fact that her new foster mom Mrs. Smith (Dana Vespoli) has enrolled her in college and treats her like a daughter, she still doesn't truly fit in. That's because her new 'sister' Sara (Anikka Albrite) despises her, ostracizing the poor girl and making her feel like a total misfit. To Sara, Halle is nothing but street trash, the black sheep, and a nuisance who doesn't deserve her good Christian family's attention. But Mrs. Smith is a kind soul and wants nothing more than her blended family to get along. So she corners Sara into agreeing to allow Halle to plan her upcoming bachelorette party, a move that leaves Sara furious and hell bent on revenge. When she knows Halle will be in the other room, she loudly bitches on the phone to her friend Blaire about how horrible her sister is and how much she has ruined her wedding.
Allie Haze, a highly trained psychologist is in a therapy session with her patient. She cannot concentrate hearing him talk about his lame life. She can't wait for this session to be over. Her mind drifts on more important things, anything to make the time go faster. Luck be with her and time was up. So happy her day was finally over, Allie receives an unexpected knock at the door and realizes she had a last minute appointment. This appointment would definitely require her attention, mentally and physically.  Karla Kush, a beautiful blonde teenager introduces herself to Allie. Allie was so relieved that Karla was at least hot. Karla lies on the couch bothered as to why her mother forced her to see a therapist. Allie comforts Karla, making her feel as ease and to think of her as a friend rather than a doctor. Karla confides in Allie, saying she became sexually active at a very early age. Karla elaborates on her sexual experiences which made Allie horny and sexually attracted to her new patient. Allie asks Karla to talk more about those experiences, wanting specifics. Karla confesses all her inner secrets, playing with boys and girls.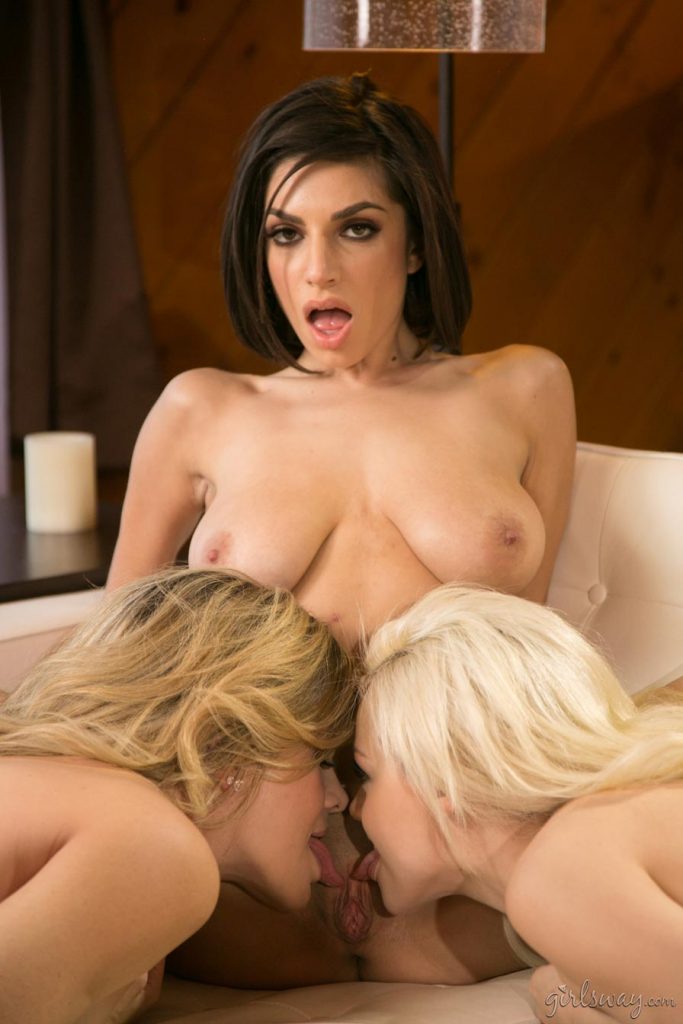 Elsa Jean tries to get the attention of lesbian lover Adriana Sephora by playing with her pussy but it doesn't work as planned. Adriana rushes out the door for work, leaving her laptop behind. Elsa finds out that her girlfriend has a fetish for women with huge boobs. Since she cannot fulfill Adriana's fantasies, she calls her friend Darcie Dolce for assistance to realize a heavenly lesbian threesome…
Shyla Jennings sits alone reading a magazine on her couch receives a phone call from her bff Samantha Rone about going to Vegas. Shyla knows she shouldn't go since its her finals, but is persuaded. Feeling excited, Shyla quickly gets ready to meet Samantha at the hotel. When they finally meet up, Samantha has news to share with Shyla…Being from a Christian family, Samantha thought it was her obligation as a friend and morally to let her know that her other friend Sasha Heart was coming on the trip, but Sasha was a lesbian. Shyla is reluctant at first, but finally caves to the situation. As Samantha leaves to go pick up her dress, Shyla is alone in the hotel room. As she ponders over the whole situation, she starts to think this whole trip was a bad idea, and should've stayed home… Her paranoia peaks as she hears the door opening the room and its Sasha…
Please follow and like us: