The fine people over at PervCity have once again provided us with their top 5 scenes for April 2018. If you'd like to see the March top 5 click here.
5.  Anal Cream Pie Surprise for Victoria Steffanie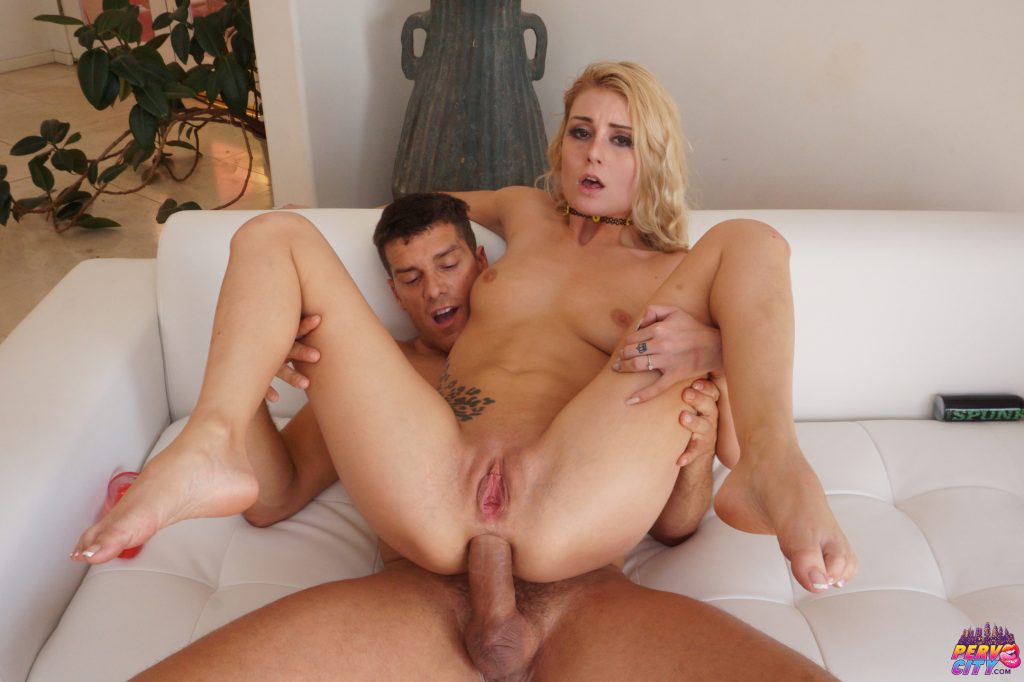 Victoria Steffanie is a selfies addict, but today she's abandoning solo and going hardcore with PervCity. This is her debut scene and we're celebrating with an anal creampie surprise. Of course, getting there with this insatiable ass fucking slut is half the fun. She may be a teen, but she wants what she wants: a big dick creaming her asshole while she orgasms. Who can deny her? Pop goes the cock deep into her throat. She loves a face fuck and showers us with the slobbery rimjob and ball sucking works! With her butt plug in place, it's a pussy to ass and ass to pussy DP festival! And it leaves the horny blonde's gaping butthole oozing, her body trembling, and her mouth begging to give your prick an ass to mouth cleanup!
4 –  Anal MILF Texas Patti German Gapetoberfest
German anal sex MILF Texas Patti loves a party. So when she got her invitation to our Gapetoberfest celebration, she was on the first flight to PervCity. As soon as the sexy brunette saw the buffet menu – loaded sausage and creampie – she dug right in! But it turns out that this voracious cougar is herself a smorgasbord for big dick. Her hungry mouth salivates and devours cock like a rare delicacy. She's a deep throat ambassador. Her big ass is a hot and relentless man-eating machine. She's a gaping gladiator. Her passion for ass to mouth to hairy pussy will have you popping your cork like a mad dog. Although not before she treats you to a footjob with her sexy feet and a rimjob with her dripping tongue. How do you say amazing in German? Texas Patti!
3 – Hot Blonde London River Gets Her Ass Filled With Cum
Blonde London River gets her ass filled with cum during her PervCity debut. Nothing could be hotter than anal sex creampie- except everything leading to this insane nut-busting moment! The horny Midwestern slut is so hungry to submit to big dick that she's wearing a velvet black choker for the occasion. It turns out to be a promise of things to come when she expertly chokes our cock with a crazy balls-deep face fuck. But deep throat isn't this dirty babe's only talent. As spit drips down her big tits, she moves into doggy style. Her sexy feet reach out, and wham! There is no turning back from a foot job like this one. Suddenly, it's a POV blur of frenzied ass to pussy and ass to mouth fucking that leaves everyone sweaty and spent!
2 – Fucking Whitney Wright's Asshole Can't Be Wrong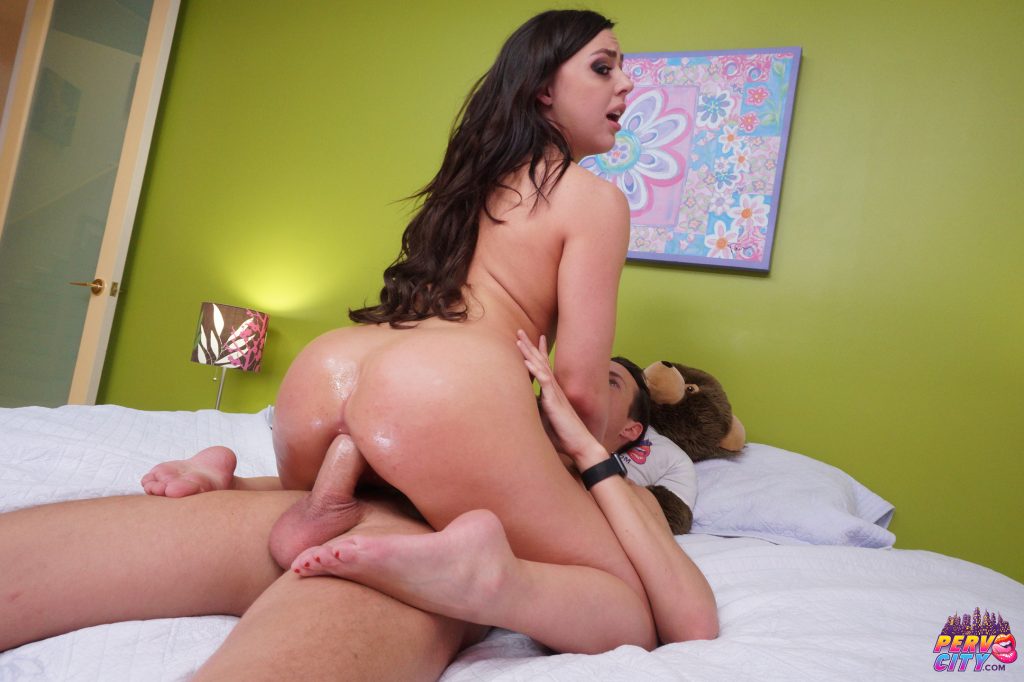 Fucking Whitney Wright's asshole can't be wrong. It feels too right! Then again, when isn't anal sex amazing? It's great for the soul and it's even better for this hot brunette babe. She's been itching for a big dick. And she has come to the right place. PervCity has the perfect rod for her hairy pussy and that beautiful big ass of hers. Whitney gets right down to deep throat with her blowjob lips and adds a rimjob just to get you going. The girl is insatiable. She takes cock like a banshee begging to orgasm. Ass to pussy takes a turn to ass to mouth. And when the cumshots fly, this hottie is at the tip of your prick ready to drink you down!
 1 – Caution: Dangerous Curves Ahead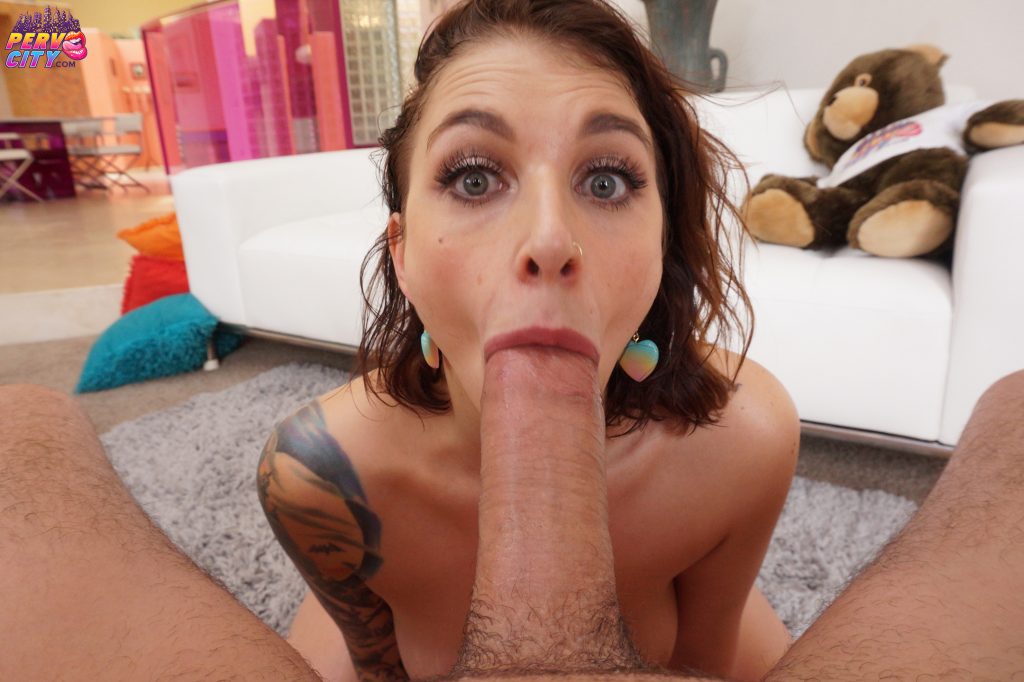 Ivy Lebelle is back in PervCity and we need to warn you that there are seriously dangerous curves ahead today. This sexy brunette has the most amazing big ass. She's also got voluptuous curvy hips. And her big tits? Those massive headlights can do some real damage. And they do when the tattooed slut gets on the titty fuck train. The moment Ivy gets a look at your big dick, she licks her lips and gets into the driver's seat for a wildly winding oral sex ride. It all begins with a slow POV blowjob and slobbery ball sucking. When the spit starts spilling, things get slippery. And you know the warning: slippery when wet. Watch out, because your cumshots are about to crash into Ivy's deep throat during this out-of-control face fuck!
Please follow and like us: